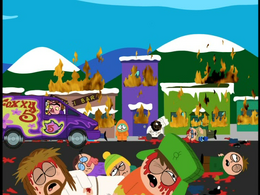 South Park
is a Comedy Central TV show about four kids named Cartman, Kyle, Stan, and Kenny who all live in the town of South Park, Colorado. They have made some cameo appearances in episodes of Drawn Together.
In "The Other Cousin", when Captain Hero and Bleh were riding the rollercoaster, a bunch of retards were behind them. Two of which were Kyle Broflovski and a Jakovasaurus.
In "A Tale of Two Cows", South Park was shown as one of the places that Live Action Cow had invaded and caused a genocide in. When they drove through there, Spanky said that their place was funny and that if they lived there, people would probably start watching their show. Everyone in South Park was shown dead, except for Kenny. The other dead bodies of characters were Jesus, Mrs. Choksondik, Craig, Chef, Kyle, Mr. Garrison and Mr. Hat, and Butters.
Ad blocker interference detected!
Wikia is a free-to-use site that makes money from advertising. We have a modified experience for viewers using ad blockers

Wikia is not accessible if you've made further modifications. Remove the custom ad blocker rule(s) and the page will load as expected.