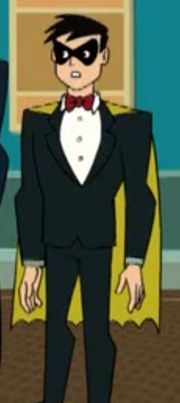 Robin
is Batman's sidekick. He has made few cameos in Drawn Together.
Robin first appeared in a cutaway gag in Little Orphan Hero, where he witnessed Captain Hero making fun of the deaths of his parents at his party.
Robin appeared in The Drawn Together Movie: The Movie!, in a flashback montage of superheroes who have been intimate with Molly. Robin and Batman were seen doing it with each other in the toilet while Molly was left alone in the sink.
Ad blocker interference detected!
Wikia is a free-to-use site that makes money from advertising. We have a modified experience for viewers using ad blockers

Wikia is not accessible if you've made further modifications. Remove the custom ad blocker rule(s) and the page will load as expected.