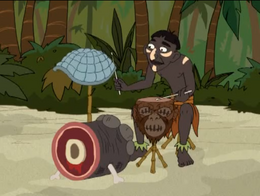 Rim-Shot Guy
is a character in
Drawn Together
who made his first appearance in
The One Wherein There Is a Big Twist, Part II
. He is an Indian tribesman who randomly appears in certain episodes of the show and plays a rim-shot on a drum kit whenever a character makes a pun or corny joke.
Appearances
Edit
(Toot is eating a bunch of fish)
Tribesman: Wow, I haven't seen that much eating, since Lilith Fair come to island.
(Rim Shot)
---
Foxxy: Sure enough, everybody else had lost their minds, but not the Foxxy. She knew Sweetcake was up to no good. Foxxy's got a sixth sense for this kind of thing and six cents for a handy in the back alley.
(Rim Shot)
Clara: You have an answer for everything, don't you?
Foxxy: Yep. Except for math.
(Rim Shot)
Spanky: Some of the greatest songs have been based off of tragic deaths. Think Candles in the Wind, think Tears in Heaven, think Grandma got Run Over by a Reindeer.
(Rim-Shot)
Captain Hero: Red eyes, foaming mouth. Zoinks! Live Action Cow has rabbis!
Clara: It's pronounced "Rabies", although they're both incurable diseases.
(Rim Shot)
(Toot angrily eats Wooldoor and then craps him out)
Wooldoor: That's one irritable bowel.
(Rim-Shot)
(Foxxy admits that she doesn't know how to spell)
Wooldoor: Well, that explains her obsession with Malcolm X.
(Rim Shot)
Delivery Guy: I haven't had a delivery this bad since my wife's miscarriage.
(Rim Shot)
---
Delivery Guy: I've seen Home Alone like, 17 times.
(In Confessional): Watching that adorable little kid running around is the closest thing me and my wife will ever get to having a real son.
(Rim Shot)
Ad blocker interference detected!
Wikia is a free-to-use site that makes money from advertising. We have a modified experience for viewers using ad blockers

Wikia is not accessible if you've made further modifications. Remove the custom ad blocker rule(s) and the page will load as expected.