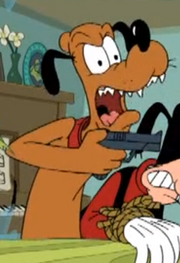 Pluto
is Mickey Mouse's pet dog. He is a character from the Disney franchise. Voiced by James Arnold Taylor. He was cameoed once in Drawn Together in the episode
Xandir and Tim, Sitting in a Tree
. In this episode, he was threatening to kill Goofy because he was considered "a dog good enough to wear pants" while he was reduced to only being a house pet. He shot Goofy in the head and then shot himself. Unlike in the actual Mickey Mouse series he speaks like a human and does not bark.
Ad blocker interference detected!
Wikia is a free-to-use site that makes money from advertising. We have a modified experience for viewers using ad blockers

Wikia is not accessible if you've made further modifications. Remove the custom ad blocker rule(s) and the page will load as expected.