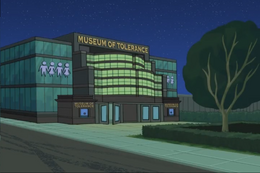 Museum of Tolerance
is a chain museum that discusses topics such as racism and prejudice to teach people about being tolerant of all races, religions, genders, sexual orientations, etc. It appeared in the episode
N.R.A.y RAY
, where
Captain Hero
and
Wooldoor
were seen leaving there with a lot of souvenirs.
The ticket cashier at the Museum of Tolerance, himself is a racist, believing that Black people and Mexicans are always committing crimes, as Captain Hero and Wooldoor told him about them being robbed, for him to retort saying "It was probably the Blacks of the Mexicans." He appeared later in the episode, in the Courthouse, being called to the stand in a case where Foxxy Love was being accused of stealing her own TV. He was up on the stand and said "See? Just like I said."
Ad blocker interference detected!
Wikia is a free-to-use site that makes money from advertising. We have a modified experience for viewers using ad blockers

Wikia is not accessible if you've made further modifications. Remove the custom ad blocker rule(s) and the page will load as expected.