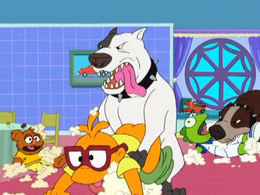 Muppet Babies was an animated spin-off series of the old but wildly popular kids television series The Muppets, featuring The Muppets as babies. They have been cameoed and parodied multiple times in Drawn Together.
In the episode Little Orphan Hero, Foxxy Love remembered the time when Clara adopted a bunch of pit bulls but got bored of them and so she sent them to live with The Muppet Babies. A cutaway gag then showed all of the Muppet Babies being ripped and torn apart by the pit bulls and their stuffing was coming out. Gonzo was seen getting shaken around in a pit bull's mouth, Scooter was seen being anal raped by one of them, and Fozzie was seen, lying dead on the table. Also, an unnamed green dinosaur Muppet was seen being eaten by one of the pit pulls who doesn't portray of even parody on any actual Muppet. It is unknown what he was doing there or why.
The episode Drawn Together Babies was an episode that was a parody on Muppet Babies, showing the cast of Drawn Together as babies. The episode's theme song was a parody on the theme song for the show and featured many allusions to it. They all lived in a similar playroom as the one that the Muppets babies live in and they had parents who were only ever seen from the waist down, just like the Nanny from their show. There were also many scenes, showing live action video clips of things that had to do with what they were doing in the show. For instance: Black and white footage of an audience of oldsters cheering when the babies were diaper racing, and Foxxy Love swimming in the pool, in a backdrop of live action undersea footage of hammerhead sharks swimming in the water.
Ad blocker interference detected!
Wikia is a free-to-use site that makes money from advertising. We have a modified experience for viewers using ad blockers

Wikia is not accessible if you've made further modifications. Remove the custom ad blocker rule(s) and the page will load as expected.