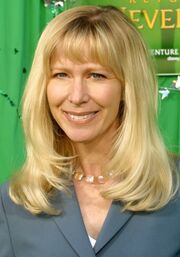 Kath Soucie (/ˈsuːsi/) is an American voice actress, most active in voice overs. She's known for roles such as Janine Melnitz in The Real Ghostbusters, Fifi La Fume in Tiny Toon Adventures, Dexter's Mom in Dexter's Laboratory, and many more. In Drawn Together, she was a guest actor voiced Charlotte the Babysitter in the episode Drawn Together Babies.
Ad blocker interference detected!
Wikia is a free-to-use site that makes money from advertising. We have a modified experience for viewers using ad blockers

Wikia is not accessible if you've made further modifications. Remove the custom ad blocker rule(s) and the page will load as expected.