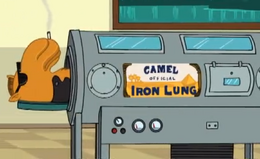 Joe Camel
is a cartoon mascot from the old
Camel Cigarettes
commercials. He has been cameoed in Drawn Together twice.
Joe's first appearance was in the episode Foxxy vs. the Board of Education, where he was seen as one of the patients in the waiting room at the hospital. Joe was in the hospital because he had lung disease from smoking his own cigarettes. He was seen lying down in an officially licensed Camel Iron Lung while he was smoking one of his own cigarettes.
Joe Camel appeared again in the episode N.R.A.y RAY, as one of the animals in the pile of animals that Captain Hero had killed with his new gun.
Ad blocker interference detected!
Wikia is a free-to-use site that makes money from advertising. We have a modified experience for viewers using ad blockers

Wikia is not accessible if you've made further modifications. Remove the custom ad blocker rule(s) and the page will load as expected.