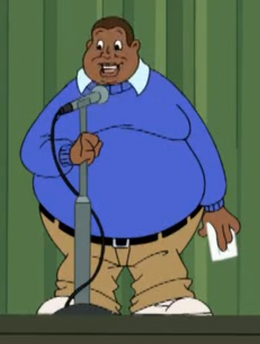 Fat Albert
is the main character of
Fat Albert and the Cosby Kids
. He has been parodied and alluded to many times on Drawn Together, most of them are him looking exactly the same, only wearing a blue shirt instead of his usual red shirt.
Fat Albert's first appearance was in Terms of Endearment, where he was shown to be one of the cartoon characters, being locked away for being racist. In this case, one of the African American stereotypes.
Fat Albert appears again in Ghostesses in the Slot Machine, being pulled on a rickshaw by Ling-Ling.
Fat Albert was seen again in the episode A Tale of Two Cows, as the emcee at the reunion for Camp Really Fat David. Here, he was seen wearing a blue shirt instead of his normal red one.
Fat Albert was seen in the audience in The Drawn Together Clip Show. He looked mostly like he did when he was portrayed in "A Tale of Two Cows", wearing a blue shirt and resembling him in physical appearance, meaning that this was the character he was referencing to.
Although he didn't actually appear, in the episode Toot Goes Bollywood, a parody of Fat Albert known as "Phat Allen" was the main villain of the episode. He looked exactly like Fat Albert only with darker skin, fatter, and with a purple shirt.