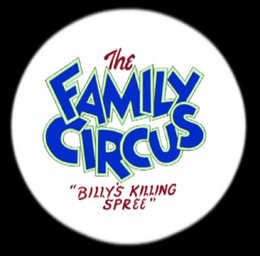 Family Circus
is a newspaper comic about a family which has four little kids in it. It was parodied in the Drawn Together episode
Xandir and Tim, Sitting in a Tree
. In this episode, Billy was apparently being negotiated by the police for killing his family. Spanky was calling him in there and looking through the house with a telescope, parodying the way all of their comics are in a circular panel. He had to follow a dashed line, which is something that also happens in a lot of their comics. The dead people in there were Jeffy, Dolly, Daddy, Barfy, Grandma, Kittycat, Not Me, P.J., and Mommy. Lastly, Billy was seen with his dead mother in the bathtub and he said that she would live inside him forever as he ate her heart and shot himself.
Ad blocker interference detected!
Wikia is a free-to-use site that makes money from advertising. We have a modified experience for viewers using ad blockers

Wikia is not accessible if you've made further modifications. Remove the custom ad blocker rule(s) and the page will load as expected.