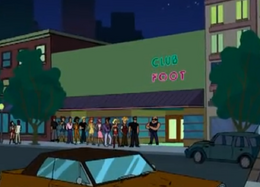 Club Foot
is a nightclub that is recurrently featured in
Drawn Together
. The cast of the show usually goes there to have a party of some kind whether it's to celebrate a great success of someone's or a reunion or just so they can go clubbing there.
Appearance
Edit
Club Foot has changed it's appearance after it's debut in Captain Hero's Marriage Pact for some reason. In it's debut episode, Club Foot is a nightclub that is a big green building with neon lights on it that read "CLUB FOOT" with the words being the colors green and pink respectively. In it's two future episode appearances, Club Foot is a smaller and shorter building that is more of a yellowish color. The neon sign is now on a purple awning and the walls are lined with a bunch of window panes and next to the entrance, there are also neon signs that read "Dining" and "Dancing" in the same colors of the entrance sign respectively.
Episode Appearances
Edit
Ad blocker interference detected!
Wikia is a free-to-use site that makes money from advertising. We have a modified experience for viewers using ad blockers

Wikia is not accessible if you've made further modifications. Remove the custom ad blocker rule(s) and the page will load as expected.