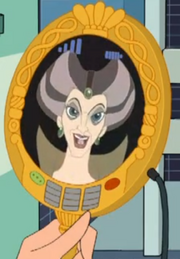 Clara's Evil Stepmother
is Clara's second and current mother. She appeared in the episode "
Clara's Dirty Little Secret
". After Clara's real mother died in a car crash because of her father's drunk driving, he remarried her. Clara hated her stepmother from the very beginning because she was not her real mother and in return, her stepmother put a magic curse on her vagina, turning into a tentacled monster known as
Octopussoir
.
It turns out she's only evil because Clara wouldn't accept her.
She is voiced by the Cree Summer.
Appearance
Edit
Clara's Evil Stepmother is an old woman with pale white skin and dim colored green eyes. She wears dim reddish lipstick and green loop earrings. Her hair is gray and old and she wears it up on her head. She also wears a big green dress.
Ad blocker interference detected!
Wikia is a free-to-use site that makes money from advertising. We have a modified experience for viewers using ad blockers

Wikia is not accessible if you've made further modifications. Remove the custom ad blocker rule(s) and the page will load as expected.