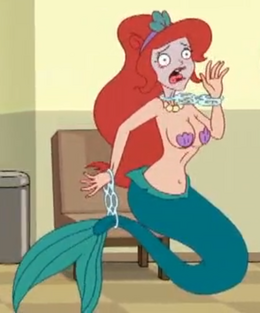 Ariel
is a character from the Disney movie The Little Mermaid. She is also the prototype that
Princess Clara
is a parody of and she has even been featured in some episodes.
Appearances
Edit
Ariel first appeared in Foxxy vs. the Board of Education where she was one of the patients at the hospital. She was seen choking on a plactic six pack holder, with one end around her neck and the other around her hand. There was also another one on her tail and other hand. Ariel's face was turning blue.
She appeared again in Spelling Applebee's as one of Clara's friends. In this episode, her design was different and she had closer resemblance to Princess Clara. At the end of the episode, she died in a car crash and her tail was blown off.
Ad blocker interference detected!
Wikia is a free-to-use site that makes money from advertising. We have a modified experience for viewers using ad blockers

Wikia is not accessible if you've made further modifications. Remove the custom ad blocker rule(s) and the page will load as expected.